Collection: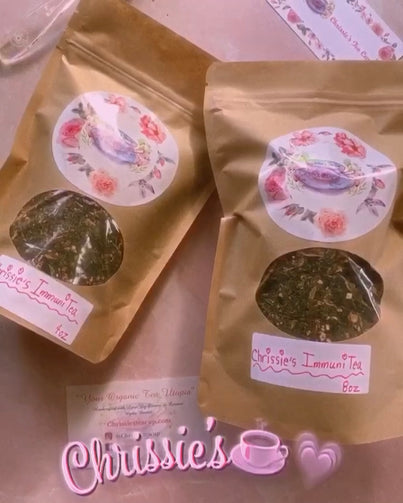 Collection:
Chrissie's Immunitea
Chrissie's Immunitea
Regular price

Sale price

$29.99
Our customer favorite Immunitea blend is tailored to support a healthy immune system and to support recovery from ailments. Our certified 100% organic, handcrafted blend features elderberry, elderflower for respiratory health, in addition to ginger, licorice root, nettle, and rosehips for an antioxidant and anti-inflammatory punch.
Tart notes of hibiscus and rosehip are balanced with a mild spice of ginger and subtle sweetness of licorice root, followed by a smooth finish of nettle. A complex symphony of ingredients that harmonizes well. This is a great sipping tea during the cold and flu season or all year around for continued support to help you remain healthy and strong. ~Caffeine Free~
**This tea blend contains Hibiscus. Please consult with your physician before consuming Hibiscus if pregnant or nursing.