Your Organic Tea Utopia
Handcrafted with Love By Owner & Curator Wydia Becton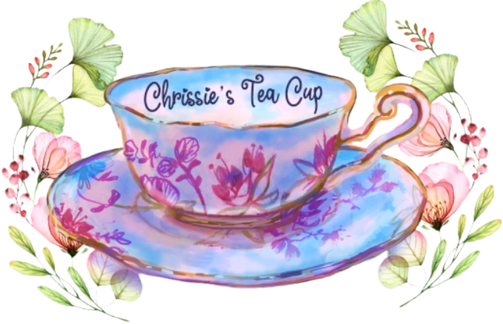 Chrissie's Zodiac Tea
12

products
Featured product
Chrissie's Flavor Infused Honey Sticks
Regular price

Sale price

$5.99
Our variety of flavor infused raw honeys are infused by hand, slowly & over low heat so that all of the amazing health qualities are preserved & the flavor is too! You can even enjoy these on the go!
No artificial colors, chemicals or flavors here! Every flavor you see is infused w/ ONLY THAT! Made right here in the USA.
Infused Honey Stick flavors are:
Elderberry
Lavender
Lemon
Vanilla Bean
Cinnamon
Raw
*10 sticks per flavor
Featured product
Chrissie's Element Bundles
Regular price

Sale price

$26.99
Chrissie's Element Bundles are for our Chrissie's Tea Cup lovers who can't pick just 1 from our Chrissie's Zodiac Tea Collection. We've created bundle deals so that our Big Sippers can now have the option of buying 3 different sample sized blends from each Chrissie's Zodiac Tea element. All 100% organic and hand blended in small batches with love. Refer to each tea's listing for a detailed list of ingredients.
Water Signs- Pisces Tea, Cancer Tea, Scorpio Tea
Earth Signs- Taurus Tea, Virgo Tea, Capricorn Tea
Fire Signs- Aries Tea, Leo Tea, Sagittarius Tea
Air Signs- Aquarius Tea, Gemini Tea, Libra Tea
Featured product
Chrissie's Immunitea
Vendor

Chrissie's Tea Cup

Regular price

Sale price

$29.99
Our customer favorite Immunitea blend is tailored to support a healthy immune system and to support recovery from ailments. Our certified 100% organic, handcrafted blend features elderberry, elderflower for respiratory health, in addition to ginger, licorice root, nettle, and rosehips for an antioxidant and anti-inflammatory punch.
Tart notes of hibiscus and rosehip are balanced with a mild spice of ginger and subtle sweetness of licorice root, followed by a smooth finish of nettle. A complex symphony of ingredients that harmonizes well. This is a great sipping tea during the cold and flu season or all year around for continued support to help you remain healthy and strong. ~Caffeine Free~
**This tea blend contains Hibiscus. Please consult with your physician before consuming Hibiscus if pregnant or nursing.
Chrissie's Tea Accessories
6

products
The Chrissie in "Chrissie's Tea Cup"
The Chrissie in "Chrissie's Tea Cup" is my beautiful mother Christine. She was a true Queen. The hardest working woman I've ever known & the most loving mother and grandma. I lost her in the physical form after a hard battle with cancer in 2019. I left my job as an office manager to be at her bedside everyday. After she transitioned I had to find my way again with my 2 sons. So instead of looking for another job I started looking for what I loved and I set off to create my own "job" doing that.
Chrissie's Tea Cup was born from that. I thought about how much I love tea. And not just tea but fancy tea. And I knew I wasn't alone in that love. So I decided to blend them & create those same good feelings I get sipping a good quality, organic cup of tea for the world. 1 of our favorite things to do when my mom would come over to visit was sit on my sofa, I'd ask "You want a cup of tea, Ma?" and listen to her funny stories as we sipped.
She is the foundation of this company. That is why it's called "Chrissie's Tea Cup" and not "Chrissie's Tea".
I love her so very much and I'll miss her until we sip again. -Wydia A.K.A her "Muda Poo"